26th September 2020
Supporting urban regeneration
Can care providers and local authorities come together to revitalise run-down communities and create a more sustainable and caring future?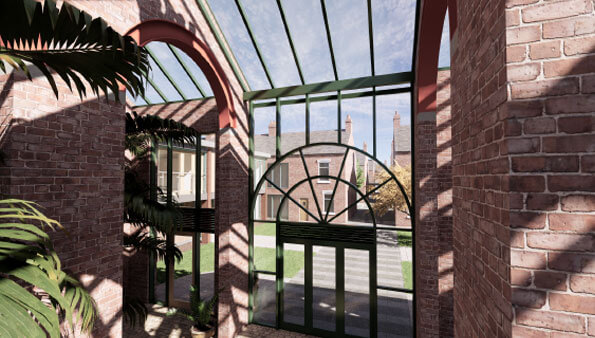 The Hogeweyk complex was opened in the Netherlands in 2009 and has received international acclaim, pioneering a new approach in the delivery of dementia care. It is the first 'village' of its kind specifically designed for elderly people with dementia, providing residents with a more active and community-based lifestyle.
The village is formed out an arrangement of domestic scale buildings arranged on a 'safe' four-acre site to form sheltered streets, gardens, squares and a park, freely accessing the supermarket, restaurant, bar and theatre. These facilities are all open to the public and serve residents of the surrounding neighbourhood which adds to the atmosphere of normality and sense of community.
Residents live in self-contained households reflecting family homes, and they can freely do their own shopping, visit neighbours, or go for a walk in the park, all within the village. Each household accommodates six to seven residents who are supported by two permanent care staff who provide specialist dementia care, helping them to manage their own households including washing, cooking and buying groceries from the village supermarket.
This self-contained household model not only allows for a homely and familiar feel, but it also provides an easily isolated space should Covid-19, or any future pandemics/epidemics, continue to be a threat to care provision in the UK.
Would a dementia care village work in the UK?
The key concept defining Hogeweyk village is its lively street made up of households, meeting places and accessible services promoting an active lifestyle with freedom of movement, and a sense of purpose within an inclusive community. Shops, restaurants and cafe bars serve to provide both a practical purpose and a social purpose in Hogeweyk and their inclusion is an integral component of the care village concept.
Re-introducing these facilities into rundown urban neighbourhoods in the UK would revitalise forgotten communities providing public meeting places vital for social cohesion, making everyday life easier, more affordable and providing local employment opportunities. This would ensure elderly community members are given the opportunity to stay in their family home while receiving full support, encouraged to participate in communal activities organised by the village, providing a source of friendship, mutual care and support.
In terms of construction, adopting the household model allows for the use of lower cost, more sustainable construction techniques working to domestic building standards. This immediately opens up more flexibility to meet local planning criteria and potentially eliminates the need for commercial kitchens, laundries and plant rooms to be included in the project.
Existing local businesses could be subsidised and integrated into the collective of shops cafes and restaurants positioned on the periphery of the care village could act as interfaces between the village and the surrounding community.
Why use existing terraced houses?
Many available building sites are unsuitable for traditional care homes due to their irregular shapes, slopes, obstructions, and restricted access. The conceptual idea of adapting existing terraced houses as a potential care village came about while searching for suitable building sites for a Hogeweyk-like village in a location where included facilities would be of most benefit to the surrounding community.
While there is a shortage of available building sites suitable for new care facilities, there is no shortage of high density areas of industrial era terraced housing, many of which are only partially occupied and in poor condition, presenting a hostile environment and low prospects for remaining residents. These areas would clearly benefit from any development that reintroduces essential amenities which have been lost due to local facilities being valued purely in terms of profitability rather than for their social purpose. The characteristically repetitive layouts of these terraces lend themselves to sustainable modular construction techniques and the streetscapes can be retained, preserving the history of the area.
An urban care village would bring with it a specialist dementia care hub able to support the surrounding elderly community, providing them with a realistic alternative to being moved from their family context. Regenerating run-down areas into lively street environments, many of which are legacy terraced housing, would implant new employment opportunities and essential services into areas where they are most needed to re-establish communities, potentially performing as a catalyst for further regeneration projects as well as raising surrounding property values.
Local grocery shops, sub post offices and cafes are absent from many deprived areas where historically these places would have been served by numerous small shops, workshops and services which provided social cohesion and a sense of place. It stands to reason that the reintroduction of small businesses to serve local communities must play a crucial role in supporting an increasingly ageing population.
Ian Holme is Director and Simon Lewington an Architectural Designer at Harris Irwin Architects – www.harrisirwin.com
Maria Luz Gonzalez has joined as an Architectural Assistant, based in the firm's office in Walthamstow, north east London.
Her role at Harris Irwin is to provide specialist architectural assistance to the firm's team in London, as well as its head office in Yorkshire. This includes preparing drawings, 3D modelling, schedules, reports, and presentations.
Maria hails from Alicante in Spain and did a degree in architecture in her home country, which included work experience in the UK.
As the UK and Spanish architectural qualification pathways differ, Maria has joined Harris Irwin as a Part 2 Architectural Assistant and will become a qualified architect within two years.
The 27-year-old says she is looking forward to making her own contribution to growing the London office of Harris Irwin. The office opened earlier this year.
She says: "It's an exciting time to be joining Harris Irwin as they are at the forefront of architectural design in the healthcare industry.
"It's a new area of design for me but they have some really fantastic projects. and I am looking forward to learning and increasing my experience here."
Harris Irwin Associate Director Ian David, who heads up the London office, said: "We continue to invest in and develop our southern office with the appointment of Maria as a new full-time and talented designer,
"Maria has strong experience of adapting historic and listed properties and beautifully refined interiors. She will be able to help improve and broaden our offering to the market and continue to pursue excellence in design."
The London office, which opened earlier this year, is Harris Irwin's third outpost, operating alongside its head office in Richmond, North Yorkshire, and its European base in Holland. The practice is leading the way on healthcare architectural design, with current sector clients including Barchester Healthcare and Cinnamon Care Collection.