14th December 2023
Gender parity
According to the Architects Registration Board (ARB) 2019 was a landmark year in terms of gender parity. While overall 71% of those on the Architects Register at the end of 2019 were male and 29% female, the gender split for architects under 30 was exactly 50/50.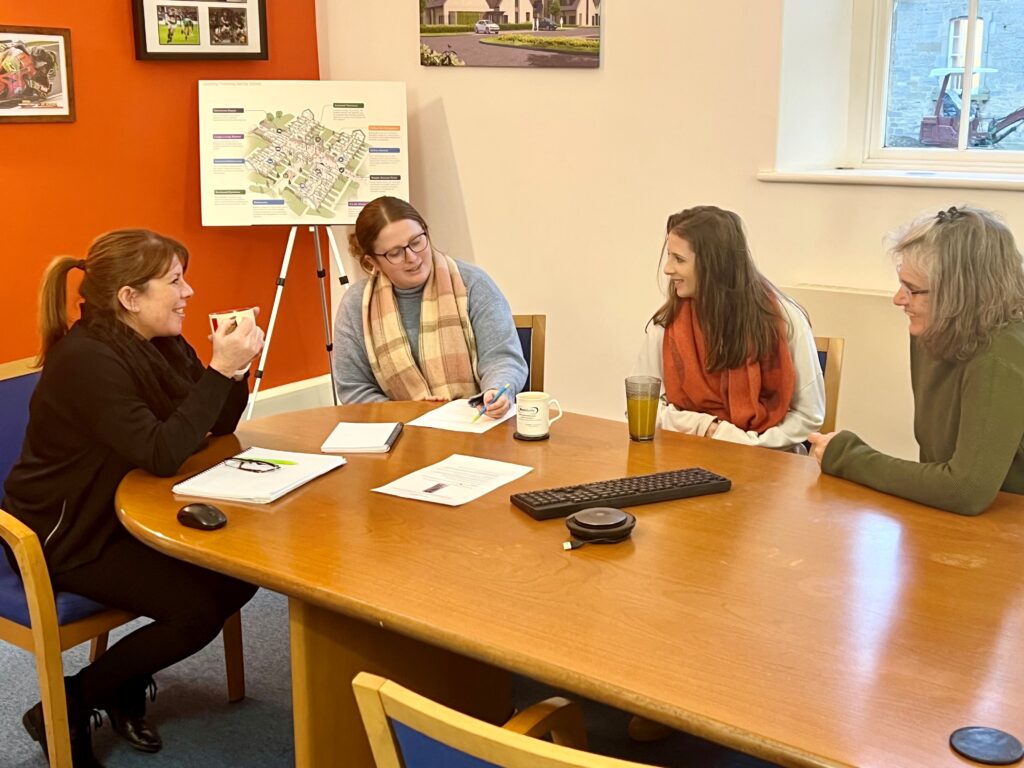 This is exciting news for an industry which was, for many years, considered to have a patriarchal culture.
Of the 45 people currently working for Harris Irwin Architects, we are proud that 40% (18) of our staff are women, from qualified architects and technicians, through to architectural assistants and administrative staff.
As a modern Practice we, at Harris Irwin, are keen to push the boundaries and engage with our staff on all subjects. With this in mind we recently got several female members of staff together for a roundtable discussion centred around the topic of women in architecture and what it's like to work in an industry which, on the whole, is still considered to be a male dominated environment.
We asked them to share their own views and experiences about the industry and Harris Irwin Architects in particular…
On training for your current profession…
"Studying architecture has levelled out massively and if anything, going towards my final year, there were more women than men…"
"I am a technician, and, on my course, there were around 30 people but only 4-5 of us were female and I think that shows there was more of an imbalance on the technical side than there is on the design side."
"My course was 50/50 and my first actual job was abroad and there were more women than men working in that drawing office."
On women being in senior positions within the industry…
"I don't know if it's because women struggle to get to the top, or because men are already there and so it's harder to progress."
"We have a female Director and have had female Associates, so It's more about what you can bring to the table, as opposed to your gender."
On childcare and flexibility…
"If I didn't have my son, I would have qualified years ago. But that's the point you have a baby and go off on maternity and you can't just drop back into the role as you have to refresh and retrain yourself.
"The main issue is that women are the ones to bear a child, and whilst childcare is often split 50/50 between parents, there will always be that fact to contend with. That's a global issue and not confined to our industry!"
"The main thing is having a supportive employer who understands this."
"Also, as a woman who is about to return from maternity leave, I think maternity pay is a problem that needs to be looked at and made more fair across all careers, not just architecture. It does leave you questioning your career choices. Statutory Maternity pay is not enough, and I think the UK needs to take a look how this can be made more equal."
On ever experiencing sexism…
"I have always been well treated when I have visited a building site."
"Getting into architecture I did expect to experience sexism, but I am pleased to say that thankfully has not happened."
"I don't feel like I have been treated any differently."
On working and progressing at Harris Irwin…
"They are so flexible in their attitude here, they are always very accommodating."
"I really like it; everyone is so friendly and supportive."
"If you looked at another Practice, I think you would see a bare minimum of women, but I can honestly say that Harris Irwin is not bothered if you are a man, woman, or alien, as long as you can do your job and are enthusiastic about the job.
"They have a good judgement on personalities because we all seem to gel and get on really well."
"Harris Irwin are a team; we look after each other and we get behind each other when we need it."
"When I started at Harris Irwin six years ago there were four women and now there are 18; that tells you everything you need to know."
"I don't think there would be any issue progressing within Harris Irwin. We all work hard and if we deserve the role; then it's good to know that the Practice is keen to promote from within."
"It helps having a woman on the Board of Directors; as that's beneficial to the rest of us."
And finally, from our female Director, Juliette Irwin..
"I met Mike (founding CEO of Harris Irwin) in the early summer of 1987, he was studying Architecture and I was studying fashion and we were both halfway through our courses. Whilst my fashion course was predominantly female, there were 2 or 3 males on my course; the inverse was the case on Mike's course with only 3 or 4 females amongst a predominantly male cohort of students. Out of those women only 2 stayed the course and completed their degrees in Architecture.
"Fast forward 35+ years, and in the time I have known Mike and also worked in this industry, I am excited to see more women coming through than ever before. I appreciate that I am in a privileged position but being invited to become a director by my fellow directors not because I was Mike's wife but because I had proved myself to stand alongside them, my opinions to be heard, valued and respected has been enormous for me.
"I am incredibly proud of the fact that we have so many women working for us, be they Architects, Technologists, Technicians, Assistants and Administrative staff. I can't say that we have positively discriminated in setting out to employ women and I can genuinely say that when recruiting we have never looked at whether someone is male, female, what their origins or beliefs are, we are only looking at the best person to fit that role.
"I know there are many architectural practices that are positively discriminating to recruit a predominantly female staff, and this is great as females have been underrepresented in this field for so long. I think it is fabulous that there are so many women who hold either CEO or MD roles in architecture, we should absolutely shout about this and support our women as they have earnt and deserve their place.
"I do believe in balance, and I think that both male and female staff bring their unique perspective which in my opinion makes for a better whole. I value my colleagues and feel incredibly lucky to be part of such a great group of people that not only work well together and support each other but also have a great social side and mix outside of the workplace too. I can honestly say that when our male and female colleagues work together side by side, they no longer see a gender but value each other for the unique qualities they bring to the Practice."