9th January 2021
Local centre scheme approved
A scheme designed by Harris Irwin Architects to create a new local centre in Warwickshire has been approved by councillors.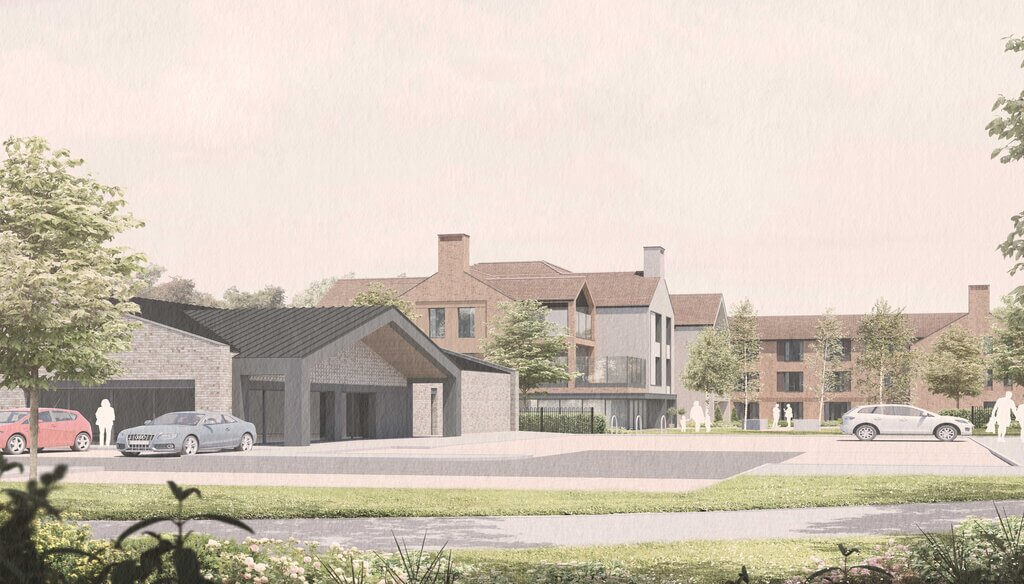 Shops, a day nursery, a care home and office block are all to be built in Lower Heathcote, serving hundreds of new homes planned for the area.
Harris Irwin was engaged by LSP Developments, working in conjunction with the landowners Gallagher Estates, which is part of the L&Q Group, to design a 75-bedroom care home, nursery school, and shops which will revolve around a central public square with car parking and footpaths.
Local centres like this have evolved over the years and are now much more sustainable, replicating village centres from the turn of the century which serve the local community.
Nursery and care sit well together as they are used throughout the day and will benefit people moving into the planned new housing, either because they need childcare or perhaps because they have elderly family members who would benefit from residential care whilst still being close to their loved ones.
The three-storey office block will become the new headquarters for developers L&Q while the retail units will be split between one large convenience store and four smaller units which could be used for retail, health services such as a dentist, or community use, such as a fish and chip shop.
Our design uses a palette of materials that join the various elements together visually whilst still making them distinct in their own right. The overall form for the retail units and care home is that of traditional pitched roofs with predominantly brick walls but using contemporary detailing through variation in height and roof form and through feature elements such as gables, bays, and balconies.
The offices give a more commercial appearance, whilst still very much in keeping with the overall design and the nursery has a more eclectic, playful feel, with coloured windows for example.
The care home is designed to offer a dementia friendly environment including best practice design based on the guidance from the University of Stirling's Dementia Services Development Centre, which is acknowledged as the leaders in this area of research.
Harris Irwin Architect Andy Plaice said: "We are delighted to have received planning permission for this exciting scheme, which will provide a real heart to the new community which is being created in this part of Warwickshire.
"The local centre will provide a well-designed vibrant facility with a range of uses that will support and encourage day and evening activity, and benefit a wide cross section of the community, from young children and families, through to elderly people in need of high-quality residential care.
"Our design will create a central hub for the community creating a real sense of place and whilst still being sympathetic to the existing local environment."