22nd July 2022
Mentoring
Architecture student Ollie Walsh has been getting hands-on work experience at Harris Irwin, receiving mentoring from Architect and RIBA Tees Valley Chair Rob McCartney.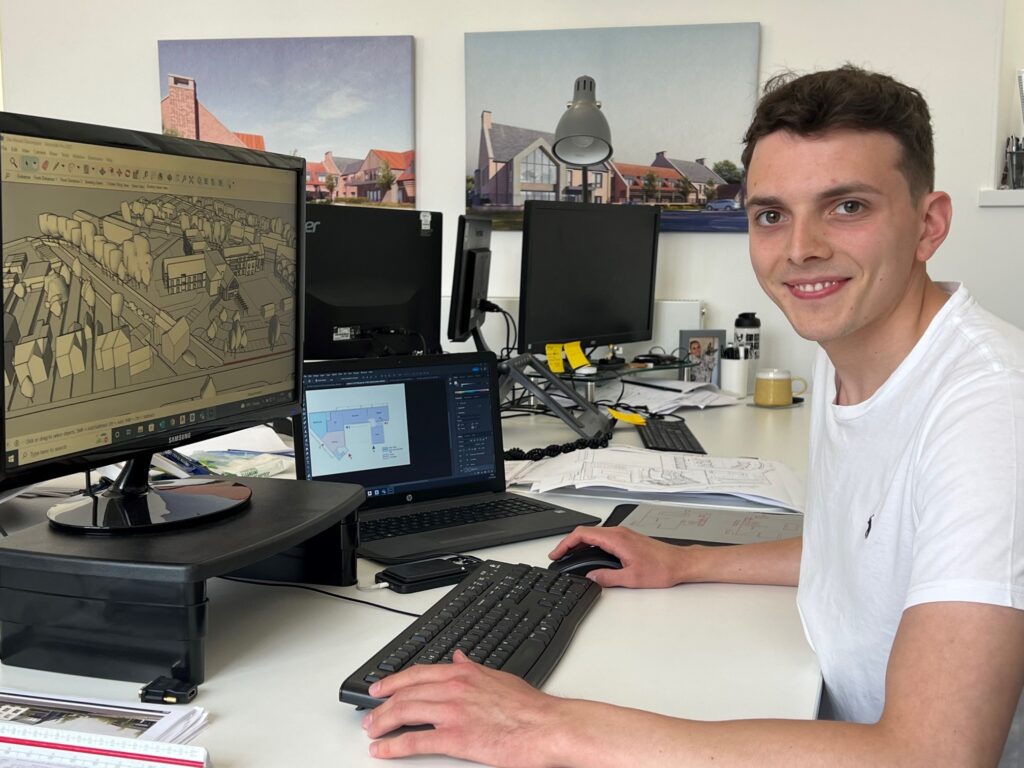 The 20-year-old joined us for two months in June after completing his second year on the BA Architecture degree course at Newcastle University.
During his second year, Ollie had been mentored by Rob as part of our involvement in the RIBA student mentoring scheme.
The mentoring scheme in the North-East, which takes place from November to March, is offered to undergraduate second year students from both Schools of Architecture at Northumbria University and Newcastle University.
This is the fourth year we have taken part in the scheme and the first time in two years that mentoring could take place at the Harris Irwin office after Covid restrictions meant everything needed to be done online.
Ollie's 'internship' at Harris Irwin has involved shadowing Rob and becoming involved in various residential care projects we are currently working on.
Ollie's said: "You never know quite what it's going to be like on work experience, but it has more than exceeded my expectations and I have really enjoyed my time at Harris Irwin.
"I have been fully involved and integrated throughout my two months, whether it's taking sketches from Rob and putting these into CAD, working in Photoshop or undertaking 3D modelling.
"It's been fantastic experience which I know will stand me in good stead when I return to University for my final year in September."
Rob says Ollie is a perfect example of why Harris is involved with the RIBA student mentorship programme.
He said: "It's not just about giving Ollie hands-on experience but getting to know him even more as a person and everyone has been very impressed with him.
"We are keen to invest in local talent because we don't have a big pond to dip into in the North-East, so ideally, through the mentoring and work experience, we can do enough to impress the architects of the future so they will consider us once their studies are over.
"It's already paid dividends for us because one of the students we mentored, Ella Ashworth, is now working at the Practice as a Part 1 Architectural Assistant.
"As a Practice with a specialism in care, inviting people in to see what we do, through the mentoring or work experience, also helps them to see how creative we are and how we are continually pushing the envelope when it comes to design."