25th June 2021
Rob's story
In the first of a series of profiles looking at the people who make Harris Irwin tick, we speak to Rob McCartney and look at his journey to becoming a Senior Architect as well as finding out how he is now helping the next generation of architects.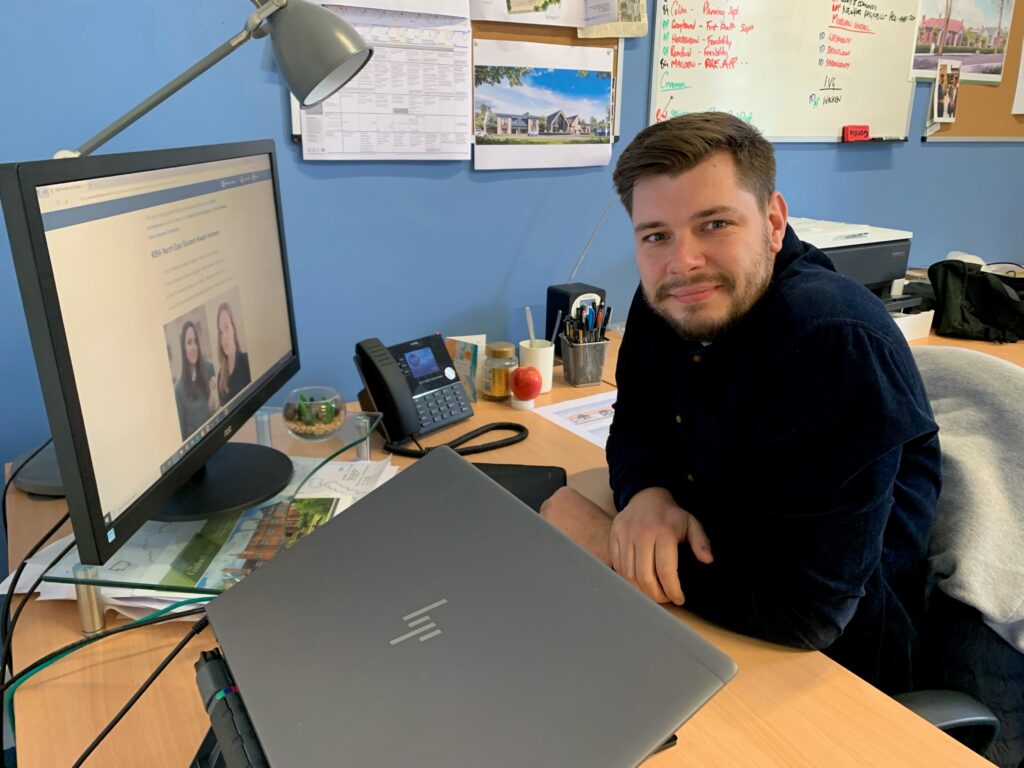 "Lots of architects will tell you it was their love of playing with Lego when they were young that prompted them to go on and make a career out of it, but for me it was all about drawing.
"It was the one thing I was particularly good at and could focus on, and I would often find hours passing by while sketching.
"This developed further when I went to secondary school and did my options with art, design and graphics being among the subjects I chose, although at that time I was still swaying between architecture and law.
"I kept my options open when I did A-Levels by doing, law, art and graphics but what swung architecture for me in the end was one of my tutors who was very passionate about it and encouraged me to pursue this as a career."
Rob left college with an A and two B's in his A-Levels and was accepted on to a three-year architecture degree course at Northumbria University.
He continues: "The first year gave me a proper understanding of what architecture was and the full process that went into it, and I discovered it was definitely not just about drawing.
"I was successful in gaining by BA degree but unfortunately when I left university in 2010 it was during the middle of a recession so not many architectural practices were hiring, and I needed to get one year's work experience to continue my Part 2 qualification.
"All my friends were earning money, so I nearly gave up becoming an architect and was just about to start officer training in the RAF when a friend of mine put me onto a job at a local practice and luckily they accepted me and I ended up working there for 18 months, gaining great experience.
"Who knows, if that hadn't materialised when it did, I may still have been in the RAF to this day!"
After his extended work experience, Rob went back to University to do his masters' degree in architecture which on completion gave him his Part 2 qualification.
From there, he joined a practice in York where he ultimately would gain his third and final qualification, Part 3, which then enabled him to become a registered architect.
So, all in all, it took seven years to reach this goal.
Rob says: "It takes less time to become a doctor for example, but you would be surprised at the reverence you get when you tell people you are an architect and I think this goes back in history to when we used to be called Master Builders, it's something to be proud of!"
Rob joined Harris Irwin in 2018 and says it is the best career move he has made, although people outside the sector may be surprised to discover that he hasn't yet seen one of his designs become a reality.
He explains: "Because we're specialists in healthcare architectural design, it's a lot different than designing for other projects, like residential housing.
"We are involved in big projects with lots of complex issues, including planning which can take up to 18 months to go through alone, so it's not uncommon for something to take several years to see it come to fruition."
Rob is about to see his first project through to completion when work starts shortly on a 64-bedroom care home in Weybridge he designed.
He adds: "I love my job and being part of a great team, which is leading the way in healthcare architecture. There's not many places where you can say you enjoy coming into work, so that says it all about Harris Irwin."
Rob is also keen to give something back to his profession and in recent years has become a mentor, through RIBA North East, to students at Northumbria University and further afield, with a student at Reading University now also receiving his support.
He says: "I feel I have an obligation to help others, just like I was helped when I was making my way into the profession, so if I can share my knowledge and experience to help young architects, then that's something I am more than happy to do and who knows, they may eventually end up working here at Harris Irwin!"